San Antonio- SikhRI's mission of bringing relevant and innovative educational tools to the Sikh community, drives the organization to design programming that recognizes that learning is a life-long process. Many from the communities where SikhRI holds events have been expressing a need for facilitators to bring programming which models teaching techniques for educators and parents to use in the classroom and home, as well as regularly bring programming appropriate for younger audiences. With this in mind, SikhRI scheduled three weekends of children and parent workshops and teacher trainings in several cities in Ontario, Canada and in the DC-area in the US.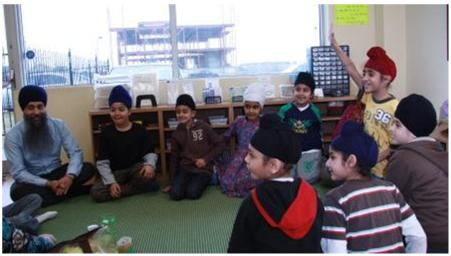 "We really enjoyed and appreciated the experience of learning about Guru Granth Sahib ji; I learned about the meaning behind Matha Tekh. I have been coming since I was two months old, and I never knew why we did so," said Rapinder Kaur, of Gobind Sarvar school, who attended one of five "Getting To Know Vahiguru" workshops that Sikh Research Institute (SikhRI) brought to Ontario in late April.
The events were facilitated by SikhRI's Director of Education Jasmine Kaur serving almost 700 individuals at Gurduaras, Gurmat and Panjabi Schools and some private schools. The schedule included two workshops for teens, one on the environment, "Creator in Creation," and "Sikh Teenagers in America. There was also a Teacher Training seminar for educators, and "Nurturing Sikhi in Your Child"- a workshop especially for parents- and seven sessions of "Getting to Know Vahiguru," a highly interactive workshop for children.
"Your presentation on 'Getting To Know Waheguru' was very well received by our students," said Inderjut Kaur Balla of the Khalsa Montesorri School in Brampton, ON. "The information in your speech and the additional reference material you provided were both fascinating and timely."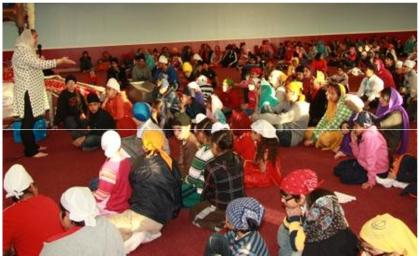 Jasmine Kaur said that she and her team strive to design programming for diverse audiences of kids, teens, parents and educators. Harliv Kaur and Surenderpal Singh assisted in developing the content for many of the workshops included in the events schedule. "The message we try to impart in the workshops and presentations always comes back to developing ways to become Guru-centered in their daily life by speaking to the sorts of ideas and challenges that everyone encounters at different points in their development as Sikhs," said Jasmine Kaur. "Reaching people isn't just about getting them in the room for a few hours one afternoon, it's about providing them with tools and information they can use and build on long after they leave."
Many parents said they were impressed with the depth of understanding and thought that was part of each workshop, as well as the hands-on components which kept kids and teens engaged and involved throughout. "It was very creative to use the basic things that we can describe, and after describing them one by one, we reached that indescribable [that is Vahiguru]," said Jasjeet Singh, who attended a "Getting to Know Vahiguru" workshop with his wife and son in Windsor, ON. You can watch a short video of the family's impressions, as well as videos of other participants from the Ontario events.
While many families attended the "Getting to Know Vahiguru" workshops together, the Teacher Training was designed for teachers in Khalsa Schools. Several who attended the training spoke of their appreciation of the techniques for brainstorming fresh ideas for lessons, and for keeping the classroom experience vibrant. "This program has given me some pointers as to how to effectively relate to the students while teaching them," said Inderpreet Kaur from Sikh Lehar Education Centre.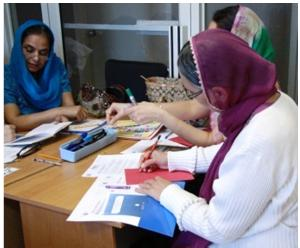 During the Teacher Training, participants were asked to "test drive" some of the activities for a lesson focused on Sikh Women's Day, while the facilitator used the time also to emphasize the role of Sikh women in building strong, healthy communities, and the ways educators and parents can keep students interested and engaged by providing a nurturing classroom. Harmeet Kaur said that she would recommend the training to other parents as well as other educators. "This would enable one to tackle upcoming issues with their growing children," she said.
In addition to the Teacher Training for educators, Jasmine Kaur facilitated a workshop for parents "Nurturing Sikhi in Your Child," at Guru Angad Institute of Sikh Studies in Sterling, VA. Parents were asked to recall formative moments in their development as Sikhs, and to delve into Gurbani as a source of inspiration and guidance when nurturing children. "I came to the workshop with reservations, said Gurpreet Singh Brar. However, I am humbled by the experience, the delivery of the message and collaboration between the parents." Paramvir Singh Bhambra came to the parents workshop with his wife, and said that the workshop was, "one of the best presentations on Sikh education I have ever attended."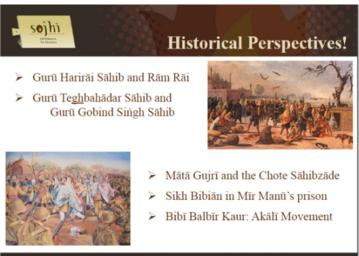 SikhRI rounded out the weekend in Maryland at Guru Nanak Foundation of America with two workshops for pre-teens and teens. The first, focused on the environment and how Sikhs have a clear duty as stewards of the natural world to do what they can in their personal lives and their communities, to encourage preservation and conservation of resources and Earth's beauty and gifts. "I thought this was a very interesting program because I learned things about myself and my peers [and] I was able to think outside of the box and experience an educational workshop under a fun environment," said Prabhleen Kaur who attended both workshops.
The second workshop for teens, "Sikh Teenagers in America" is designed to create a comfortable space for participants to talk about the challenges they face and the questions they may have about being a Sikh teenager. Through activities like designing a bumper sticker to educate others about Sikhs, to discussing the importance of Seva and community involvement to cultivate a positive support system, about 40 teens spent the afternoon together learning from each other, and about themselves. Nimarta Kaur said that she underwent a personal examination during the workshop. "Why do I do Seva? Why do I want to help others ? There isn't any correct answer to this. Every person has their reasons. But I feel that... I should give back to the community that made me who I am."
SikhRI is grateful to all the organizations and individuals who invited us and hosted the events. We look forward to bringing these workshops to more locations in the future and see reaching out to Sikhs of all ages as a way to strengthen our communities and instill confidence in Sikhs everywhere. "I am particularly pleased that our programming is expanding to bring in children, young adults and families," said Baljinder Kaur Narang, member of SikhRI's Board of Directors. "SikhRI is about reaching out to people wherever they are in the development process and helping them feel strong and confident about exploring their ideas and questions, at that stage in their life."
Contact: Jasmine Kaur jasmine.kaur@sikhri.org | 201.757.4555